The Wilhelm Rieber Tourbillon
Published Wednesday, December 03, 2008 by Harry SK Tan |

---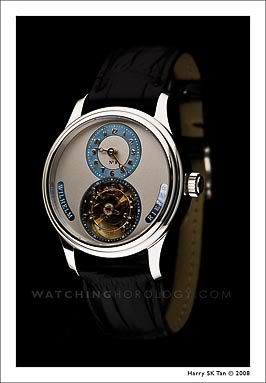 Here are my images of the hand made Platinum Wilhelm Rieber Tourbillon inlaid with blue mother of pearl. While the watch wins no prizes for aesthetic design, its a classical tourbillon with lovely Teutonic feel.
The applied gold markers and hands is a welcomed feature and the huge elevated tourbillon cage is quite handsome and finished. Interestingly, both the case and the dial is made of platinum.
This No.8 now belongs to a collector who asked to be kept anonymous - is able to lay claim to be the only collector here in Singapore to own a Rieber Tourbillon. Also on order for the customer is a special order platinum bracelet to match the watch. I do not know of any other watch that has both the case and bracelet made completely of platinum. It will certainly be a very heavy piece of jewelry on the wrist.
Click the photo on the right to see the high resolution images of the watch.
- HT