Who needs a Lange Cabaret Tourbillon when you have an iPhone?
Published Sunday, December 07, 2008 by Harry SK Tan |

---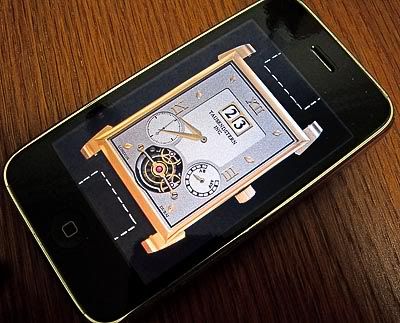 The Lange Cabaret Tourbillon was launched earlier this year and more recently, the new 3G iPhone arrived on our shores here in Singapore. While these two have nothing in common, I happen to find a nice app that put a watch in my iPhone with the look of the new Cabaret Tourbillon.
Its a simple app that displays the time and date with moving second hands as well as a moving balance wheel. Unfortunately the designers made a small error in making the second hand move like a digital second hand. I am rather impressed by the overall look of this app which would surely please many Lange fans and collectors.
I think watch brands should consider working in conjunction with software app companies to develop such nice little apps as they clearly are a great way to market the watches. At least this is a much more palatable development to what I reported in this post on how some watch brands are looking to break into the mobile phone market.
-HT
Postscript - I was just reminded that I missed out providing iPhone users a link to this gem. You can find it at - http://tausendstern.com/timepiece.html