Max Busser & Friends - HM No.1 Titanium Limited Edition
Published Saturday, December 13, 2008 by Harry SK Tan |

---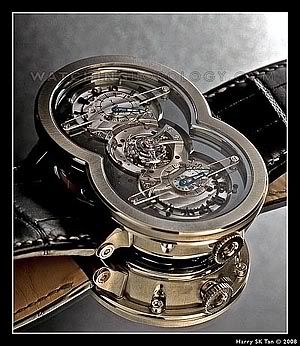 While MB&F is in the process of marketing its HM No.3 they delivered a new Titanium HM No.1. A Limited Edition of only 10 pieces, this watch is identical to the original HM No.1 in every way save for two details.
In this model, the case is now made of polished Titanium and a part of the bezel is now made of translucent grey mirror finished crystal which gives the dial a little more contrast. These difference was enough to entice me to photograph this watch again - at least this time with mirrors and coloured backdrops.
This Serial No. 8 -photographed at The Hour Glass
Millennia
- belongs to an unnamed collector - is still as substantial and impressive as the original.
Click on the image to view the images in high resolution.
- HT
Postscript - I just discovered and corrected the fault in the previous links. Click on the image above to see the high resolution of the four images I have of this watch.