Glashutte Original's Sport Evolution Impact Tourbillon
Published Friday, December 19, 2008 by Harry SK Tan |

---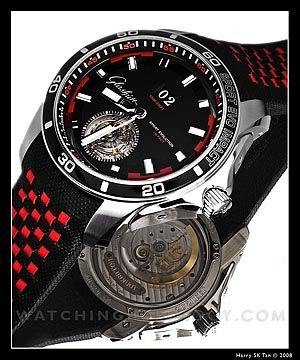 This large stainless steel automatic sports watch from Glashuette Original features a beautifully crafted tourbillon. It also has a large date window just below the 12 marker. From the photo of the watch on the right, the big date somehow seems much smaller due to the overall size of the watch. Designed with red accents on the dial as well as the strap. Its wonderfully crafted and finished.
This is yet another watch from GO that exemplifies how much it has moved away from the early conservative designs that many had complained about. While I am glad to see how GO is willing to try to push itself in terms of becoming a more fashionable brand, I am not sure that an expensive tourbillon with this price tag should be housed in a sports watch much less, in stainless steel. It seems quite a contradiction that a delicate tourbillon cage is found inside a stainless steel sports watch.
Notwithstanding, in the metal, this watch is quite substantial, well made with presence and feels wonderful on the wrist. To view the images of this watch, simply click on the image above.
-HT