Do fountain pens have anything in common with watches?
Published Monday, December 06, 2010 by Harry SK Tan |

---
It's easily noticed that quite a few watch collectors are also fountain pen users or collectors. Is it because the motivation is that luxury pens are also status symbols or inherent investment value? Or are watch collectors also fervent writers who prefer to use the fountain pens as their instrument of communications?

There are many who believe that fountain pens are anachronistic remnant of the decades past - at least my children feel that way. With the keyboard and touch screens being the norm of the written word, why then is there a fervent and almost cult like following for fountain pens? The answer is probably in degrees of all of the above reasons. Myself, I am a fountain pen user who enjoy the feel and use of a smooth and well made pen.

Personally for me, while I believe communication levels have increased due to electronic connections, writing instruments are increasingly becoming rarely used. Being a child of the 70s, I was disciplined in the art of penmanship as was all school going child was in those days. However, I only began appreciating the craft and quality of good fountain pens in the 80s while I was in law school. Even before I forayed into the world of horology, I was drawn by the craft of fountain pen writing and calligraphy and pen making.

Regrettably, while I still enjoy the use of a good smooth flowing fountain pen, I find it a rare moment when I find myself needing to write with one. Now I find myself only wishing to write with one - actually with a few.

I still have my father's Parker 75 which I use to sign cheques, my Pelikan that served me through a thousand reams of A4 of note taking at law school (those days in England disposable pens were more expensive than bottled ink). Today, I have a few fountain pens that I treasure because they have significant personal value. Like the green marble Duofold Parker International that my wife bought for me at Harrods in 1993 which amazingly still looks like new despite being used regularly.

Here are come combination captures of a couple of significant fountain pens.

The Omas Arte Italiana & IWC Portuguese 2000

The MontBlanc Marcel Proust Limited Edition & Chopard XP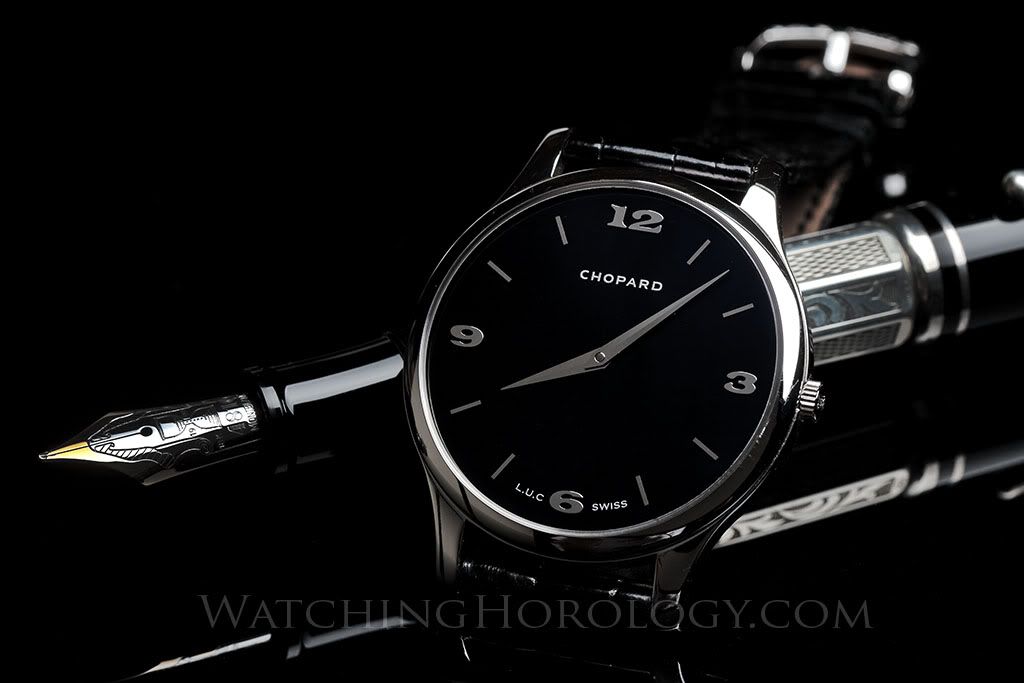 Will the new generation of watch collectors schooled in the 90s be drawn to the romance and joy of fountain pen use or even collecting? I wonder.....
- HT