IWC Vintage Portuguese (RG) Desktop Wallpaper
Published Friday, May 22, 2009 by Harry SK Tan |

---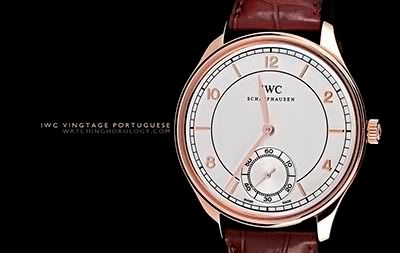 Here is the second and final wallpaper from the 2009 IWC watch collection that piqued my interest. As I have been a Portuguese fan for its history, its beautiful movement and austere design, it was natural that I would gravitate to this piece. Since the launch of the Vintage series, it was hoped by many that IWC would release a white dial model of this new series and they finally did in 2009. This watch is huge with minimal bezel and with a diameter of 46mm - feels very substantial even on the largest of wrists. IWC collectors will have to make a difficult choice to choose between the Vintage Portofino and the Portuguese. If there was one thing I would change was to revert to the old script on the dial that showed "International Watch Co." That would make the watch a true and accurate tribute to the original.
Click on the image above to download the wallpaper.
As always, your act of downloading indicates your agreement to respect and uphold my copyright not to use it in any other manner other than for personal use as a desktop wallpaper. No commercial use; amendments; alterations and editing work is permitted.
- HT