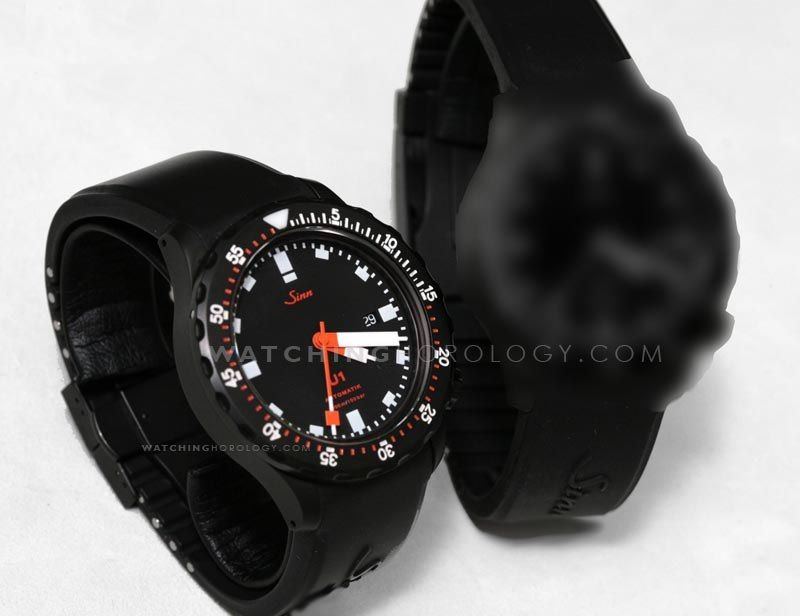 The U-Stealth (Right) unblurred by 25% (Uploaded 26/9/08)
26th Sept 2008
- Update #1
With the image 25% clearer, only two more before the complete unveiling. In the image above the dial markers are now coming to view although its still indistinct.
Sinn U1 Hour Glass Limited Editions (Image uploaded on 23/09/08)
- Tempus U1 (Left - all sold out) and the new Sinn U Black to be launched 3rd Oct - which I nicknamed U-Stealth
23 Sept 2008
On October 3rd, the Hour Glass will have a launch party to unveil their latest Limited Edition from Sinn. I was honoured by being invited in March this year to work with the Hour Glass to see what ideas we could implement to make this watch as exciting or even more than the Tempus U1.

Its is similar to their earlier Tempus limited edition in terms of the general specifications but this time, it goes monochrome and all its markers, hands and logo insignia will be in dark grey.
On the first blueprint we worked we tried to see if the watch would look if the markers had in fact been in black and it was decided immediately that a completely black watch would not serve any purpose so we tried a dark shade of grey - which appears to work very well.

In addition to the dark grey changes, a suggestion I made that was implemented was the removal of the redundant minute markers on the rotating bezel (save for the minute markers between 0 to 15). This made the watch much more authentic to military specifications and I believe it makes the watch look a lot simpler with less overall clutter on the dial face.

The image above shows the Tempus U1 next to the intentionally blurred prototype U Black. I believe the final unveiled image here to be accurate representation of the delivered model.

As all photographs of the watch is embargoed till the 3rd, I will be posting periodical update to the image unblurring the new model image as the days go by until its final unveiling on the 3rd.

As I have also been accorded the privilege to be the first to photograph the watch, fans of the watch will be able to see my high resolution images of it on the October 3rd at 6pm on this site.

I also gave the new watch the nickname U-Stealth due to its much more low key appearance compared to the high contrast Tempus U1. Also, I think it would be useful to distinguish it in the future from the mainstream black tegimented U1 due out next year.

So if this watch excites you, come back regularly to see the changes to the image!
- HT