What is the secret of the success of IWC's Portuguese watches?
Published Saturday, September 13, 2008 by Harry SK Tan |

---
Over the past 10 years of IWC history, their Portuguese line of watches has become of the most important model lineup in the IWC stable due to its popularity with serious collectors looking for classic design and quality movements. The brand has a history of over 140 years now but the Portuguese only happen just this century. Born by a demand for highly accurate maritime wrist watch, two Portuguese merchants arranged for IWC to provide them with wrist watches with pocket watch movements. At that time, the closest thing to Maritime Chronometer quality. While accuracy was their paramount concern, its the design that made the watch a classic. Considered astronomically huge back then, the 42mm watch today is no longer considered to be a big watch where cases have gone up to 47mm.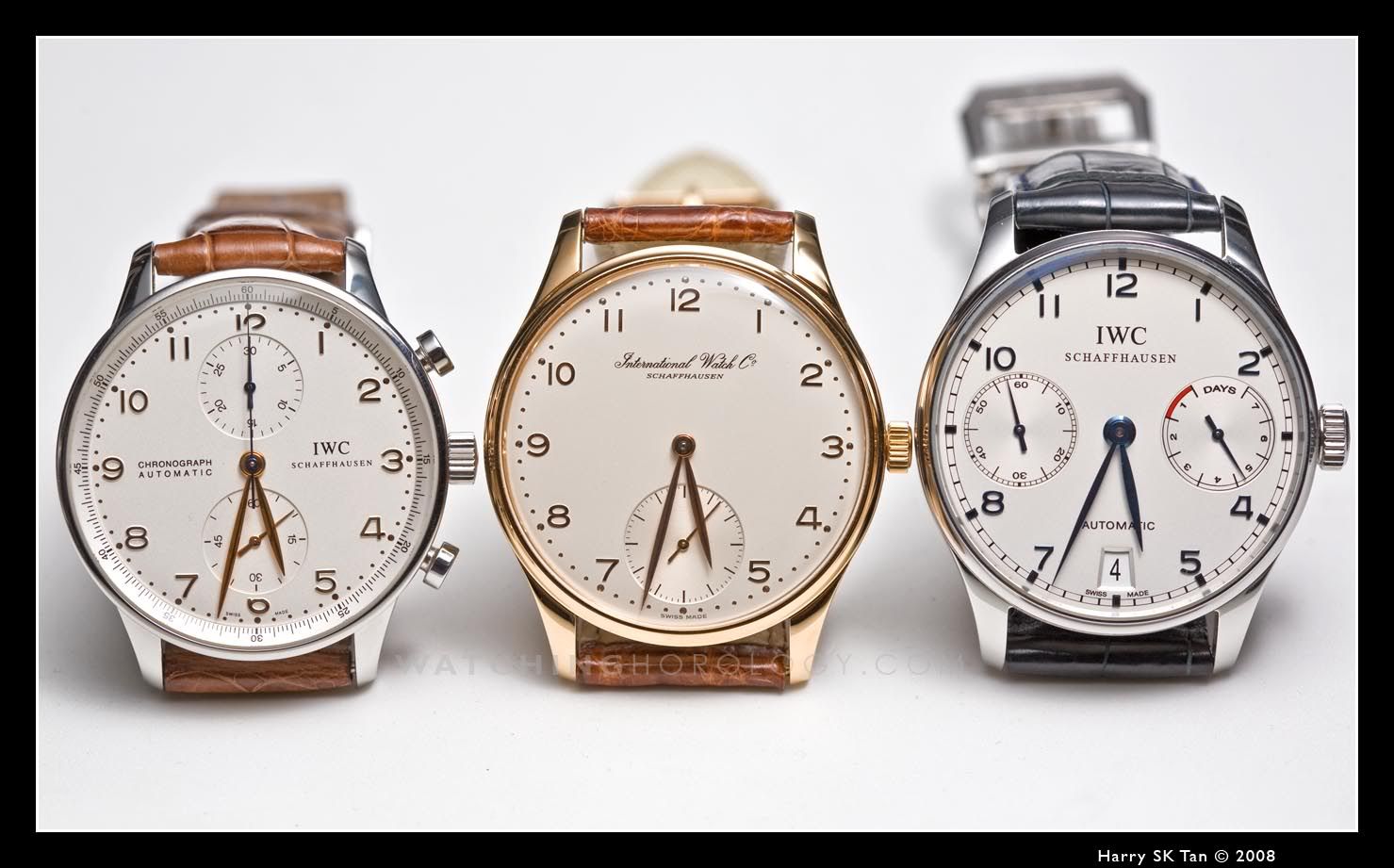 Portuguese Chronograph, Jubilee Rose Gold and Automatic 7 Days
For many including myself, the elements of the Portuguese is its austere dial design, arabic numbers, sword hands and a very thin bezel. The variety of spin off models are numerous but these elements always remain. It seems the uncluttered dial and the thin bezel lent it to being seen as classical or dressier design.
The original design is reflected in the commemorative Jubilee (seen above, middle) with dots as minute markers and a small sub-second at 6. The Chrono is identical save for fine minute calibrated lines for the chronograph function and the bicompex subdial minute and seconds counter at 12 and 6 respectively. The Auto 7 Day has instead its two subdials at 9 and 3.

One other lesser appreciated element of the design is how the case looks from the front is almost always the same. However looking from the side view of these three Portuguese, there is very little else in similarity in how the case is designed as can be seen from the image below. The variation of shape and thickness to accomodate the different calibres.


Top to bottom - Portuguese Jubilee Rose Gold, Choronograph and Auto 7 Days
Fundamentally, all these elements of the Portuguese design must be kept together for it to work. An example of how a small variation of design can change how collectors will react to it is the Portuguese F A Jones Limited Edition. That design had a Serif Font arabic numbers which was printed rather than embossed or applied. Also, for some, the font now appears far too large and indiscreet compared to the original San Serif sytle. While the Breguet hands and onion crown appears to be a nice change to reflect the watch's history with pocket watch movements, somehow the whole watch has lost its identity that I come to expect.

So is there more to Portuguese line's success is in its basic yet austere design? Quite unlikely. Classic elements and design is often the key to first impression. Fortunately for IWC, this design continues to please its owners and remain in collections for many years. Small details continue to please like the very slightly off white dial on this Choronograph (shown here with a tailored honey crocodile strap). I believe that regardless of what design changed that may come for the Portuguese line, the original and current Portuguese will continue to garner new fans and please collectors for many years.
Portuguese Chronograph Stainless Steel with tailored strap


-HT