Reported here over the recent years are two known brands, Anonimo and Gerald Genta being the early adopters of bronze as the new material for their watch cases. Since then, there had been a few adopters such as Panerai which has found success in the material and many expect more watches from them in that metal.
However, is that metal going to be the hot new trend in the near future? Bronze is not a luxury metal nor is it even as hard as steel. It does not consistently hold its colour and will patina over time. Yet it seems that for some enthusiasts, the draw or attraction of this metal would seem to be those very characteristics which gives the watch a sense of a vintage feel.
Will it prove to be successful as a metal for all luxury brands as it was for Panerai? Is the metal's characteristics worthy of the premium it demands today?
In my search for the answer to this question, I ventured to acquire an affordable bronze watch. Panerai's bronze model was out of the question based on price as well as availability. So is the Gerald Genta. But before I could source for an Anonimo bronze (in a design that I felt I would want to wear), I found this small brand retailing a limited edition "bronze" watch. It is the Magrette Regattare from New Zealand.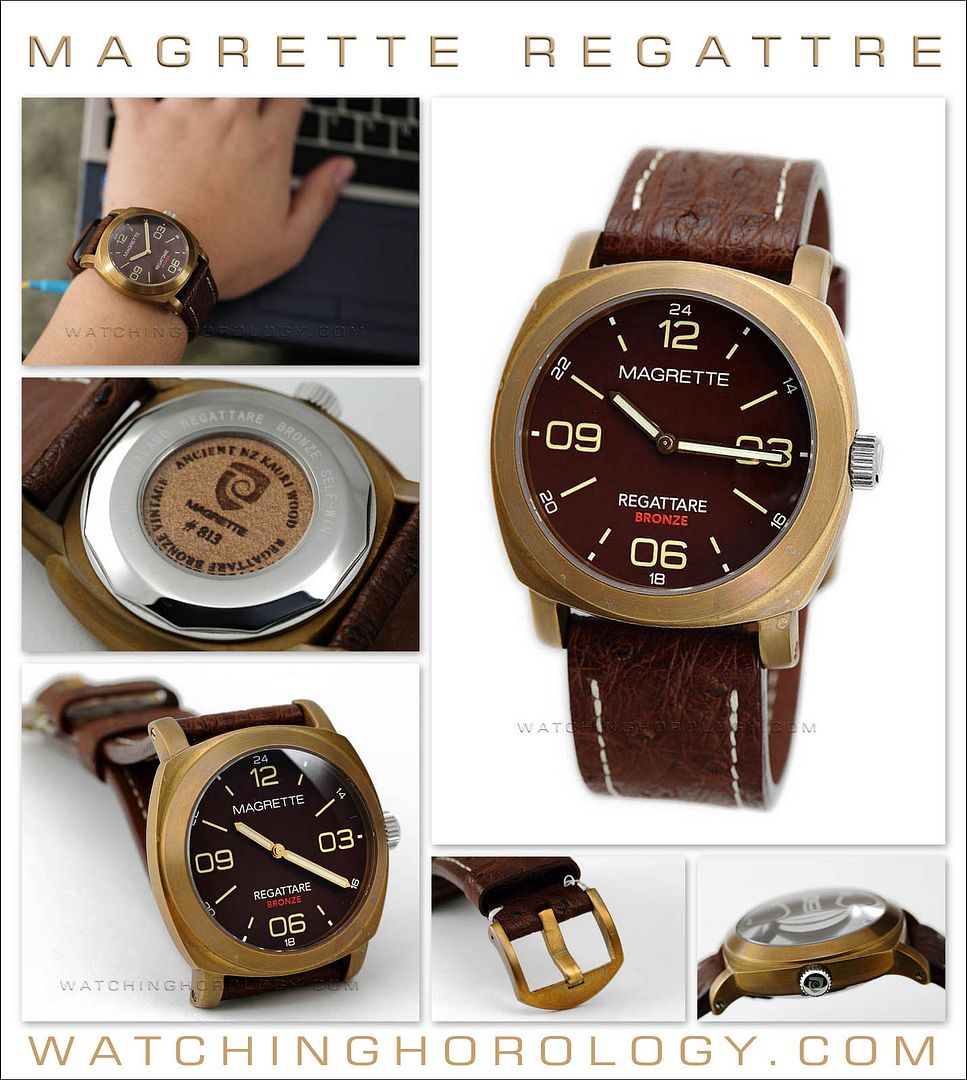 Interestingly as I read about this watch on the brand's website, it turns out that the Magrette watchmaker discovered that the casemaker had delivered to him Brass (copper and zinc) instead of Bronze (copper and tin). As a result the brand had to either recall and exchange the watches for the correct material. However, they still had in stock the brass watches which it is selling at rather interesting prices. This intrigued me even more as I have not heard nor seen any watch cases made of brass. Together with several of my friends, we each ordered a piece - knowing that this watch has a pedestrian albeit reliable Miyota automatic movement.
Having received it, my first and immediate impression was that the watch was worth the S$500 price tag (with change). Yes, it cost S$500 for this brass cased "limited edition" watch (with the brass buckle). It is also curious that the watch is described as limited to 1000 pieces - which seems inconsistent with the story the website tells about the case maker's mistake and the recall of early buyers and it is selling off the remainder.
I immediately changed the strap it came with to the brown ostrich shown in the image above (which was one of my many straps in my storage). For Anonimo fans, the dial should look familiar as it has the same layout and font from the Anonimo Militare. It has kept good time and quite comfortable on the wrist at 44mm. Having worn it regularly for the past several weeks, I am generally satisfied with the watch for what it is. A simple time only sports watch for weekend wear.
While this watch technically does not help me answer the question about bronze watches as it is made of brass, I suspect that my findings would not vary greatly. Alloys of copper and tin or zinc are not luxury metals. They tarnish or patina inconsistently. The patina may or may not be pleasant to owners. But once patina has set in, it does have a strong vintage feel.
I dare say that while the watch is interesting for its unique material, colour and feel, and I enjoy wearing it, I am not sure if I would have more watches made of that material. I would even venture to say that bronze or brass will not work with non sports watch case designs. The material however has a place in diver's watches as bronze is resistant to corrosion by sea water.
I suspect that there will be herd behaviour of sports watch brands to try their hand at using these metals. Much like how in recent years many brands produced black case watches. Not all will enjoy success but as with all black watches, the interest by buyers will wane as it looses its unique appeal of being rare and unusual.
- HT