World's largest automatic movement calibre?
Published Sunday, March 29, 2009 by Harry SK Tan |

---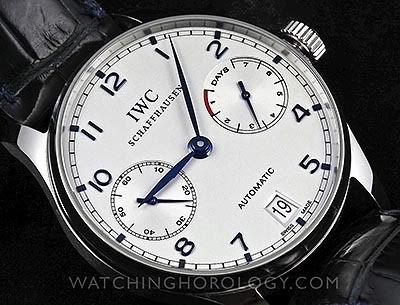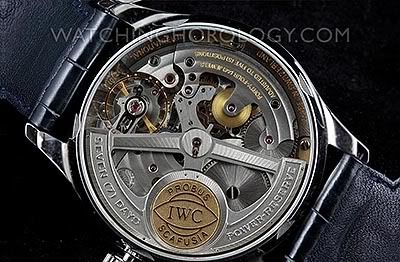 The IWC Calibre 5000 series is reputed to be the largest automatic caliber ever made. Inspired by pocket watch movements of the early Portuguese, IWC wanted to create a watch movement from the inside out yet making it special by having a seven day power reserve with a single barrel. This needed some new engineering solutions to a problem that has been around for ages. While other brands had solved the long power reserve with the use of double or even triple barrels, this meant that the amount of energy required would make an automatic quite a phenomenal problem due the weight of the automatic rotor needed to turn the barrels. IWC's legendary team of leaders and engineers managed to crack the problem and developed the now famous Calibre 5000 movement.
The first Calibre 5000 was put into the limited edition Portuguese 2000 (in the year 2000). A few years later, IWC released this watch called the Portuguese Automatic with the Calibre 5001. An improved movement with a date module making the watch a little taller.
Observe how large the rotor is in relation to the watch - which has almost no bezel on either side of the case. I am personally attracted to watches that has little or no bezel because it shows off a watch that does not have fillers and allows the beauty of the dial or movement to be seen.
This watch photographed here is not new as it has been in my possession since the day it arrived on our shores on its launch. It continues to have a special place in my collection and while its not the most refined timepiece - it clearly has one of the best modern engineering that horology has to offer. I would readily recommend this watch to any new or seasoned collector.
Click on the movement image to view it in high resolution.

- HT