Max Busser visits Singapore with the last HM1 watches
Published Saturday, March 21, 2009 by Harry SK Tan |

---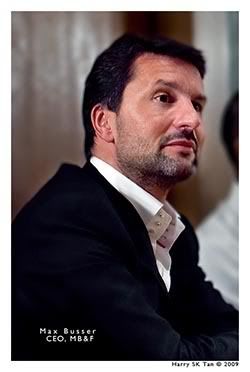 On Monday 16th March, Max Busser of MB&F hosted a small dinner for friends and collectors of his brand at the Rakuzen restaurant nearby Hour Glass Millennia.
At the casual and comfortable private room, we were shown the last versions of the HM1 tourbillon - a rose gold and a ceramic. Also shown were two HM2 - titanium and ceramic and a triple metal titanium, ceramic and rose gold version. Finally, Max showed us the production pieces of a rose gold Sidewinder and a White Gold Starcruiser (HM3).
In addition to talking about the MB&F watches, collectors and Max had an interesting discussion on the effects of the financial crisis on the watch industry and what collectors should be expecting in the coming months. It seems that a major shake up is expected not in the least, the failure of struggling brands and a restructure of watch prices (possibly a dramatic bursting of the proverbial watch bubble that so many had been expecting for years).
Interestingly, Max feels that his brand is in a strong position as he offers to niche collectors a factor that will see him succeed in the crisis - value. Max mentioned this before in an article featured in the Business Times late last year that can be read
HERE
.
More detailed images or possibly photomontages of the watches will be published here in the near future but expect a few stunning wallpapers of the MB&F watches very soon.
- HT