World's first photos of the Richard Mille Ocean Racing GMT
Published Thursday, February 01, 2007 by Su Jia Xian |

---
Thank you Harry for the kind words, and the opportunity to contribute.
Richard Mille has long been known for its Formula 1 racing inspired watches, like the RM005 and RM010 pictured above. Richard Mille himself told me that merely concentrating on automotive inspired watches risked turning his highly successful brand into a one trick pony.
That changed with the introduction of the RM014 Perini Navi tourbillon, inspired by the superluxury sailing yachts made by Perini Navi of Italy. The RM014 was designed with the Perini-built Maltese Falcon in mind; the boat was commissioned by billionaire software entrepreneur Tom Perkins and is the world's largest privately owned sailboat.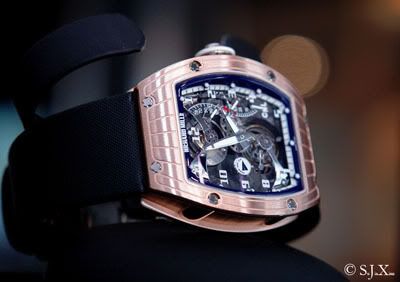 Pictured above is the RM014 Perini Navi. Despite possessing the exact same case shape as its Formula 1 inspired cousins, the RM014 manages to look completely different, it looks fluid and sleek. According to Richard, each part of the watch and movement is different from the other tourbillons in the Richard Mille range, even the tourbillon bridge is designed with components of the Maltese Falcon in mind. Click here for some coverage of the beautiful yacht and the watch it inspired.

Finally comes the new RM015 Ocean Racing GMT watch, the latest yachting inspired watch in the Richard Mille line-up. The world's first public photos of the watch, taken by Andrew Hildreth, can be found here. Kudos to Andrew on the scoop.

I like Richard Mille watches. Many knowledgeable and experienced watch collectors categorically state that Richard Mille timepieces are horrendously overpriced. I agree with them. Relative to the competition in top end haute horlogerie, Richard Mille watches are expensive, and sometimes, finished to a lesser degree than similar priced complications from other brands.

But nonetheless I like them for the simple reason that Richard Mille has pioneered a new style of watch design, and to a lesser extent a new technique of movement creation, both of which come together to form a utterly sublime watch. A Richard Mille watch feels at home on the wrist, on my wrist at least, and that is more important that how widely spaced Geneva stripes are.

- SJX